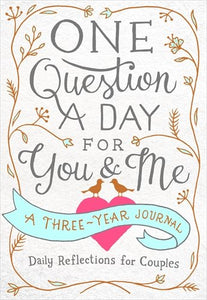 Aimee Chase
Share love three times over with this heartfelt keepsake gift book for couples.

One Question a Day for You & Me is a guided journal from Aimee Chase that offers an insightful question for each day of the year, along with space for each partner to write his or her answer. By answering the same question every day for three years, couples will be able to see how their relationship evolves and intimacy deepens as they explore their hearts and minds together.

Questions include:
What was the first thing that made you laugh today?
What do you want to do together on a sunny afternoon?
What song reminds you of your partner?
If you could go anywhere right now, where would it be?